1927
Click image for full size
1927 Specifications and Stats 1927 Summary
The 1927 models came out on August 1, 1926 and were a carry over from the 1926 models. About August 15th the 6A was discontinued and Gardner already had plans to bring out a small eight in January, with the 1927 2nd series.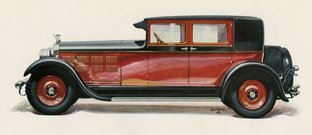 Model 90 Custom Brougham
This along with the images below are from the 1927 2nd series. Notice the differences in the hood, visor, head lights and bumpers.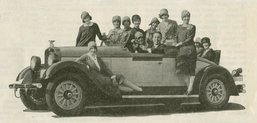 Model 80 Roadster - This roadster has has the balcrank bumpers; behind the wheel is Richard Bonelli of the Chicago Civic Opera.